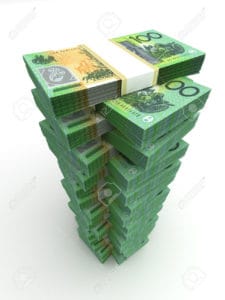 YOU could be a lot richer than you think! Gold Coasters have the chance to get their hands on $17 million.
The corporate regulator has launched a new campaign to return unclaimed money to the public.
Gold Coast residents are urged to do a free check for $17 million waiting to be claimed.
It is a share of $1.1 billion in unclaimed money owed to Australians.
In Queensland, a total of $112 million is waiting to be claimed.
The Australian Securities and Investments Commission's MoneySmart website was inundated by people checking it yesterday.
'There are more than a million records of unclaimed money from dormant bank accounts, life insurance, shares and other investments waiting to be claimed and we're keen to reunite people with their money," Peter Kell, ASIC's deputy chairman, said.
Unclaimed money is transferred to the Commonwealth after it's been unclaimed usually for seven years.
"In 2016, over $87 million was paid out to more than 16,000 people," Mr Kell said.
ASIC said people may be missing money if they have moved house without letting the bank or the institution know; have not made a transaction on their cheque or savings account for seven years; stopped making payments on a life insurance policy; have noticed that regular dividend or interest cheques have stopped coming; or were an executor of a deceased estate.
Once a person has found unclaimed money, they need to contact the relevant bank or other financial institution where the money is held if the money is listed as 'banking' or 'life insurance'.
ASIC said it aims to process claims within 28 days.
ASIC holds money from bank, credit union and building society accounts that have not been used in 7 years and contain a balance of $500 or more.
Around the country, there are vastly different amounts of forgotten money waiting to be claimed, ranging from a few dollars to more than a million.
In NSW, the figure is $380 million, in Victoria $197 million, in Queensland $112 million, in WA $75 million, the ACT $15 million, South Australia $35 million, Tasmania $9 million, and the Nothern Territory $8 million.
– Jenny Rogers, Gold Coast Bulletin