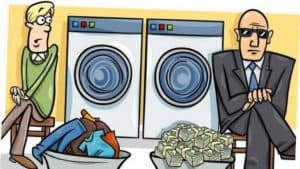 ANZ Bank says a lack of political will has seen successive Australian governments fail to extend money laundering laws to cover lawyers, real estate agents and accountants.
Australia's hot property market is an attractive haven for criminals, with estimates that billions of dollars of dirty money is being laundered through residential property.
Australia's anti-money laundering law does not cover real estate agents, lawyers and accountants, despite promises when the law was enacted in 2006 that the legislation would be widened.
ANZ's head of financial crime, Guy Boyd, is scathing of the failure of subsequent governments to extend the legislation.
"There's been probably a lack of political will and that's probably been driven by some very vocal opposition from those industry sectors," Mr Boyd told the Business in an interview.
Money laundering occurs when criminals channel money from illegal assets or activities into legal assets such as a trust fund or by buying property in an attempt to "clean" the money.
Federal Justice Minister Michael Keenan defended Australia's anti-money laundering regime.
"We do have very robust arrangements in Australia, including for property, but we are looking at how we can improve those arrangements," Mr Keenan said at a press conference in Sydney on Wednesday.
Click the link to read more http://www.abc.net.au/news/2017-07-13/should-australias-anti-money-laundering-laws-be-extended/8703354