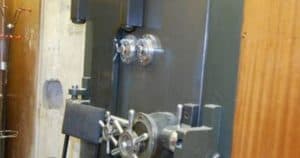 LONDON, ENGLAND – UNDATED – This handout image supplied by the Metropolitan Police, shows a view of the vault door at Hatton Garden Safe Deposit Limited following the Easter weekend robbery, April 2015 in London, England.
Eight men, aged between 46 and 76, were charged with conspiracy to burgle following raids on 12 addresses across London and Kent. Millions of pounds worth of jewels, cash and other valuable items were taken during the raid in the Hatton Garden jewellery district over the Easter weekend. (Photo by Metropolitan Police via Getty Images)
A Florida vault contains over $1 billion worth of unclaimed property, and a Florida woman had quite a bit of unclaimed cash inside it, according to WESH.
The property contained in the vault in Tallahassee usually originates from "abandoned safe deposit boxes and dormant financial, insurance, utility, security and trust holding accounts," WESH reports.
Click to continue reading http://www.palmbeachpost.com/news/new-florida-woman-finds-out-800-000-unclaimed-cash-was-hers/CMKAQItjkbWdTYDLwOjafM/