What would you do if you came across a fat stack of cash while doing urban exploration photography? That's what happened to Dave of Freaktography last year.
On one afternoon in January 2014, Dave got off work early and decided to pay a visit to a badly decaying abandoned house that he had heard about from a friend. The "house was special from the many antiques and artifacts found throughout," he says.
Here are some photos showing what he saw when he arrived. There were old possessions scattered in many of the rooms: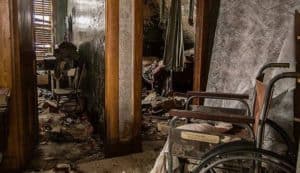 After exploring the house, Dave went back down to the kitchen. As he was about to shoot the following shot, he noticed something by the corner of a mattress.
Looking closer, he found a yellow home hardware bag that was filled with rolls of cash. Upon taking the rolls out and counting through it, Dave found that it was a stash of nearly $7,000 in old US and Canadian currency:
Many of the bundles had papers with amounts and dates from the 1960s and 1970s.
Dave operates by the well known urban exploration principle, "take nothing but pictures, leave nothing but footprints." He and his friend decided to try and find the rightful owner of the money. After doing some research into the property's owner, they found a number to call.
The woman who picked up the phone turned out to be the granddaughter of the home's previous inhabitants. Dave writes,
We gave her the money, every penny (my friend made sure she knew, not a dollar had been held back), she started to cry – overwhelmed by this random act of kindness, and by the emotions she feels being back at this house. We didn't pry or ask about family history, we offered a few hugs and just took in the moment. We posed with her for a photo, at her request, and after many many "Thank You" hugs we went on our way.

They later learned that the money was likely collected over decades by the woman's grandparents from a fruit stand they owned.

Dave has since posted his entire set of photos from the house on Facebook along with the story of his find. The album is titled, "House of Treasures." You can find more of Dave's urban exploration photography on his website.

Credits: Photographs by Dave/Freaktography and used with permission and MICHAEL ZHANG